Page 3 - 1700242_Value_Plus_March2017
P. 3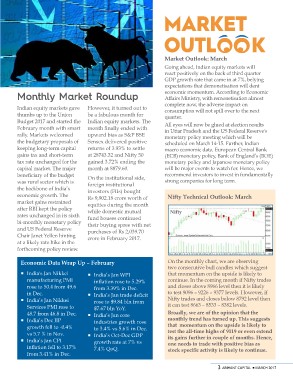 Monthly Market Roundup                                      Market Outlook: March
                                                            Going ahead, Indian equity markets will
Indian equity markets gave    However, it turned out to     react positively on the back of third quarter
thumbs up to the Union        be a fabulous month for       GDP growth rate that came in at 7%, belying
Budget 2017 and started the   Indian equity markets. The    expectations that demonetisation will dent
February month with smart     month finally ended with      economic momentum. According to Economic
rally. Markets welcomed       upward bias as S&P BSE        Affairs Ministry, with remonetisation almost
the budgetary proposals of    Sensex delivered positive     complete now, the adverse impact on
keeping long-term capital     returns of 3.93% to settle    consumption will not spill over to the next
gains tax and short-term      at 28743.32 and Nifty 50      quarter.
tax rate unchanged for the    gained 3.72% ending the       All eyes will now be glued at election results
capital market. The major     month at 8879.60.             in Uttar Pradesh and the US Federal Reserve's
beneficiary of the budget                                   monetary policy meeting which will be
was rural sector which is     On the institutional side,    scheduled on March 14-15. Further, Indian
the backbone of India's       foreign institutional         macro economic data, European Central Bank
economic growth. The          investors (FIIs) bought       (ECB) monetary policy, Bank of England's (BOE)
market gains restrained       Rs 9,902.18 crore worth of    monetary policy and Japanese monetary policy
after RBI kept the policy     equities during the month     will be major events to watch for. Hence, we
rates unchanged in its sixth  while domestic mutual         recommend investors to invest in fundamentally
bi-monthly monetary policy    fund houses continued         strong companies for long term.
and US Federal Reserve        their buying spree with net    Nifty Technical Outlook: March
Chair Janet Yellen hinting    purchases of Rs 2,039.70
at a likely rate hike in the  crore in February 2017.          Nifty
forthcoming policy review.
                                                             On the monthly chart, we are observing
Economic Data Wrap Up – February                             two consecutive bull candles which suggest
                                                             that momentum on the upside is likely to
¡	 India's Jan Nikkei         ¡	 India's Jan WPI             continue. In the coming month if Nifty trades
   manufacturing PMI             inflation rose to 5.29%     and closes above 8966 level then it is likely
   rose to 50.4 from 49.6        from 3.39% in Dec.          to test 9096 – 9226 – 9377 levels. However, if
   in Dec.                                                   Nifty trades and closes below 8792 level then
                              ¡	 India's Jan trade deficit   it can test 8663 – 8533 – 8382 levels.
¡	 India's Jan Nikkei            rose to $9.84 bln from      Broadly, we are of the opinion that the
   Services PMI rose to          $7.67 bln YoY.              monthly trend has turned up. This suggests
   48.7 from 46.8 in Dec.                                    that momentum on the upside is likely to
                              ¡	 India's Jan core            test the all-time highs of 9119 or even extend
¡	 India's Dec IIP               industries growth rose      its gains further in couple of months. Hence,
   growth fell to -0.4%          to 3.4% vs 5.6% in Dec.     one needs to trade with positive bias as
   vs 5.7 % in Nov.                                          stock specific activity is likely to continue.
                              ¡	 India's Oct-Dec GDP
¡	 India's Jan CPI               growth rate at 7% vs                                  3 ARIHANT CAPITAL ¡ MARCH 2017
   inflation fell to 3.17%       7.4% QoQ.
   from 3.41% in Dec.